Essential España: making the most of your trip to Spain
Heading to sunny 
Spain
 any time soon? ¡Qué suerte! (Lucky you!) This diverse country is a traveller's dream, with all the fine food and wine, architecture, outdoor adventure opportunities and action-packed nightlife you could wish for. Oh, and golden beaches. And galleries. And great shopping…well, you get the picture. Here are a few tips that'll make your Spanish sojourn even better.
Peak season needn't mean freak-out season
They don't call it peak season for nothing: from June to August, Spain absolutely heaves with foreign visitors. Beaches are packed, bars spill out onto the streets, and accommodation is at a premium. Feeling claustrophobic? Flee the tourist hordes by escaping to the lesser known beaches of Menorca or Costa de Almeria, or by heading to cooler mountain regions such as those in Aragon and in Cantabria and Asturias.
Semana Santa (the week leading up to Easter Sunday) is another crazy-busy time that's best avoided if possible. Accommodation in resorts is invariably super-expensive or scarce, and transport heavily booked.
Sports nuts, take note
Visitors flying to Spain can expect a hefty surcharge for carrying sporting equipment such as surfboards, bikes and diving equipment. Iberia and Air France charge so much to carry it that it's often cheaper to buy equipment in Spain and sell it at the end of the trip. Bring your running things – the Spanish love jogging and people will happily point you in the direction of good running routes. Footballers are sure to find impromptu games taking place, and players will often be happy for you to join in.
Set your watch (and stomach!) to Spain time
Shops are usually open from about 9am to 2pm and again from 4pm or 5pm for another three hours, Monday to Friday, with similar hours on Saturday (although many skip the evening session). The further south you go, the longer the afternoon break tends to be. Restaurants generally open for lunch from 1pm to 4pm and for dinner from 8pm to midnight. Again, this doesn't apply quite so reliably in the country's south, where locals tend to eat out even later. Whereas restaurants in Barcelona may be busy by 9.30pm, their Madrid counterparts will still be half empty.
Bear in mind that many restaurants shut down during August, when locals leave town for their summer holidays.
Lingo for the little 'uns
Most younger children are fascinated by the ubiquitous street-corner kioscos selling sweets or gusanitos (corn puffs) for a few céntimos (cents). The magnetism of these places often overcomes a child's inhibitions enough for them to carry out their own first Spanish-language transactions.
Read more: http://www.lonelyplanet.com/europe/travel-tips-and-articles/2552#ixzz2lcfbFRv8
source: LonelyPlanet.com
Bullfighting in Spain: is it a dying tradition?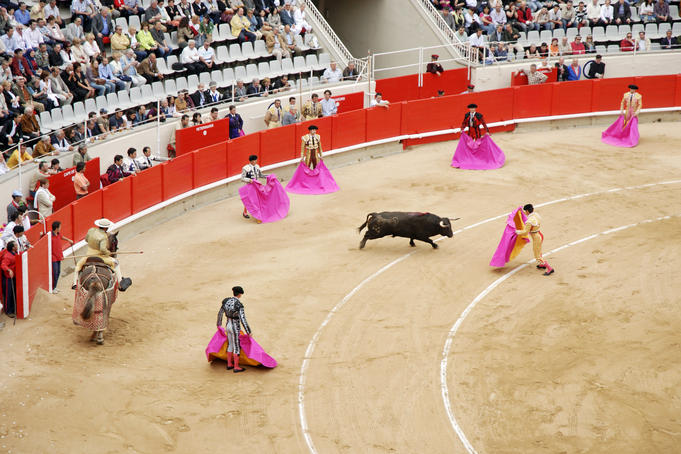 To its aficionados, bullfighting is an art. Some would say a dying art, and Spain's northeast region of Catalonia hammered another nail into the coffin in July 2010, when the regional parliament voted to ban it from 2012.
Hemingway called it 'death in the afternoon' and fight-goers think of it as la fiesta(a word that can mean feast, party or celebration). Barcelona was once the only city in Spain to boast three bullrings, but by 1977 they were down to one – indeed the only bullfighting ring in Catalonia.
On Sunday evenings from Easter to late September, the Plaça dels Braus Monumental in Barcelona, an art nouveau colosseum, throws open its gates to the public for an evening of blood, courage, nobility and, many insist, insensate cruelty.
Six bulls and three star matadores (those star bullfighters who do most of the fighting and slaughter the bull at the end) appear on the ticket. The matador leads a cuadrilla (team) of other fighters who make up the rest of the colourful band in the ring.
In essence, the matadores aim to impress the crowd and jury with daring and graceful moves as close to an aggressive, fighting bull as possible. At the end of a particularly fine display, the jury may award one of the dead bull's ears to thematador. Two ears signify an even better result, while the tail represents the peak of recognition. To be carried out of the ring by fellow toreros (the word toreadorexists only in opera) at the end of the evening is an honour. To do so at the Las Ventas ring in Madrid, the capital of bullfighting, is every matador's dream.
While the death of the bull is generally inevitable (its meat is later sold), this in no way implies the bullfighter always gets off scot-free. It is a genuinely dangerous business and being gored and tossed about like a handkerchief by several hundred kilos of bull is every bit as terrifying as it looks. Possibly the most valiant (some would say reckless) bullfighter in the world, José Tomás, came close to death when he was gored in the groin at a fight in Mexico City in April 2010.
José Tomás has performed to ecstatic crowds in Barcelona's ring, but has also had to run the gauntlet of lines of animal rights protesters to get into the ring. He may never have to do so again.
On 28 July 2010, Catalonia's parliament, after long debate (under Spanish law, citizens who collect at least 50,000 signatures within 120 days in support of a proposed change in the law may present that petition to the regional parliament, obliging the latter to debate and vote on the proposal) voted 68 to 55 (with nine abstentions) in favour of banning bullfighting in Catalonia.
While few doubt the sincerity of the more than 180,000 signatories to the petition, the issue has become part of a broader political wrangle. Catalan nationalists eager to push the idea that bullfighting is a Spanish cultural imposition that offends Catalan sensibilities, turned the debate into an issue of national identity. The Socialist premier, José Montilla, who leads a minority government, voted against the motion.
Relations between the central government and Barcelona have long been strained over issues such as devolution, distribution of revenues and local identity, and Montilla did not wish to serve up another pretext for raising tension between Catalonia and the rest of Spain. In addition, some estimates put the cost of compensation to the company with the license to stage bullfights in Barcelona at more than €300 million.
Catalonia is not, however, the first region to outlaw bullfighting. The Canary Islands passed similar legislation in 1991, but only after the popularity of bullfighting had ebbed to such an extent that the rings stood virtually empty at weekends. Montilla and many other politicians would have preferred to let the same thing happen in Barcelona. In a bullring with a capacity for nearly 20,000 spectators, the number of tickets sold, many of them to curious tourists, often fails to exceed 3000.
The Catalan vote means Article 6 of the Animal Protection Act will strictly outlaw bullfights in Catalonia from 1 January 2012. The bulls, however, are not out of trouble.
In more than 30 southern Catalan towns, especially in the Delta del'Ebre area (a low, flat, rice-growing area around the broad delta of the Ebro river), a distinctly Catalan tradition that involves turning bulls into a spectacle (albeit without killing them) remains in place, protected by its status as a local tradition.
In the correbous (bull running), bulls are chased around town with flaming torches attached to their horns (bous embolats) or have heavy ropes wrapped around each horn (bous capllaçats), which are then pulled in opposite directions by two groups of young men in a kind of tug-of-war. The bulls are subsequently taken to the slaughterhouse. These spectacles generally take place on town feast days, mostly between July and September. Among the most important take place around mid-August in towns such as Amposta, Deltebre, Ulldecona and Corbera d'Ebre.
source: lonelyplanet.com