Top 10 ways to delve into Hong Kong's underbelly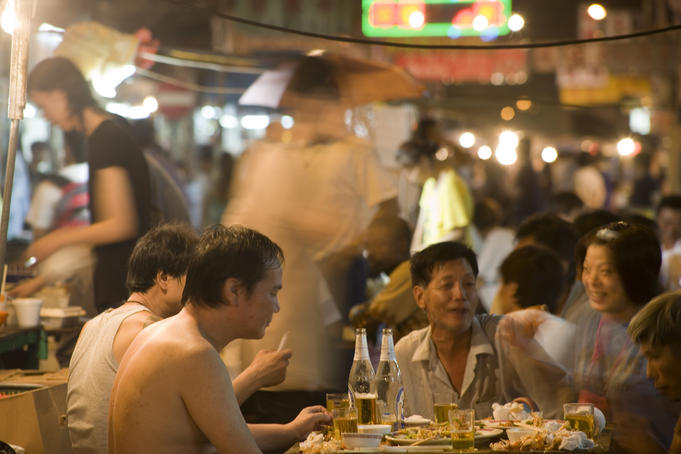 Hong Kong is a place that provokes questions, some without answers. Those five-star hotels and soaring skyscrapers are first world, but those crumbling tenements look third world, don't they? How do seven million people fit on this tiny speck of land? And how do they decide where to eat in The City of 10,000 Restaurants? How can a simmering tureen of tripe stock look so evil yet smell so good?
Pondering, you reach the water and stare across to Hong Kong Island. Nothing has quite prepared you for the spectacle up close: freighters and motor junks forever plying their harbour trade and, beyond them, a Futurama cityscape rising from near vertical jungle slopes.
It's an intoxicating place – spectacular, exotic and accessible. If you're visiting for business, you'll find pleasure sneaks up on you. If you're visiting for pleasure, there's no shortage of locals who make it their business to please. Here are the top ten ways to delve into Hong Kong's absorbing culture.
1. Reach sensory overload in the wet market's colour, aroma and gore
Prepare to have your senses (and maybe sensibilities) assailed if you tour a wet market, places that feed Hong Kong's appetite for fresh food. Stalls of exotic fresh produce are piled high next to ones selling other local delicacies and staples, such as preserved eggs (the ready-to-eat greenish-black ones packed in a mixture of ash, lime and salt and buried for 100 days) or fresh white bean curd scooped still steaming from wooden pails.
2. Rock & roll along Hong Kong Island's northern coast on a tram
It doesn't matter how many times you visit Hong Kong Island, a ride on one of their infamous double-decker tram still offers a thrill. Yes it's slow, not air-conditioned and fully exposed to the noise and bustle, but that's part of the appeal. You'll make stately progress through a sliver of Hong Kong Island, your journey along the tram tracks offering a mesmeric and slowly scrolling urban panorama.
3. Shuffle through Sheung Wan's old-Shanghai–style historic alleys
The streets of Sheung Wan form Hong Kong Island's old Chinese heart and it's a vibrant, colourful area that's best explored on foot. Towering above the bins of dried bivalves and small fry, the piles of dried shark fins are a stark sign of their popularity in Hong Kong as a high-status delicacy. Several shops in the area also seem to base their business entirely on the sale of ginseng roots or swallow's nests, gathered at great risk high up in Malay sea caves.
4. A night at the races in Happy Valley
They advise you not to get your hair cut on a Wednesday in Hong Kong, as the scissor-wielding barber will be more intent on the horse racing on TV than your scalp. It's easy to believe if you visit Happy Valley on race night. Beneath the twinkling lights of the surrounding high-rises, you'll see Hong Kong's citizens momentarily abandon their exterior poise as they yell their horse home (or curse the donkey they backed). The racing season runs from September to early July.
5. Take a sip of luxury at Hong Kong's legendary Peninsula hotel
For service as smooth as it comes, a regal atmosphere and a string quartet discreetly sawing away upstairs, afternoon tea at the Peninsula offers an affordable taste of luxurious Hong Kong. Undeniably one of the world's great hotels, the Peninsula is both a landmark and a Hong Kong icon.
6. Pray for good fortune in temple of New Kowloon
Sik Sik Yuen Wong Tai Sin Temple is an explosion of colour with red pillars, bright-yellow roofs and green-and-blue latticework. What's particularly striking is its popularity with locals. Behind the main temple and to the right are the Good Wish Gardens, replete with colourful pavilions, zigzag bridges and artificial ponds. Within the complex there's also a kooky arcade filled with dozens of booths operated by fortune-tellers.
7. Take a trip back through time at the Museum of History
Hong Kong's remnants of the past – be they listed buildings and monuments or old-fashioned observances – are precious indeed. 'The Hong Kong Story' at the Museum of History takes visitors on a fascinating walk through the territory's past via eight galleries.
8. Escape to the city's rainforest aviary in Hong Kong Park
Hong Kong Park is one of the most unusual parks in the world, emphasising artificial creations, such as its fountain plaza, conservatory, artificial waterfall, indoor games hall, playground, t'ai chi garden, viewing tower, museums and an arts centre. For all its artifice, the park is beautiful in its own weird way and, with a wall of skyscrapers on one side and mountains on the other, makes for dramatic photographs. Its best feature by far is the Edward Youde Aviary, home to hundreds of birds representing some 150 different species. The aviary is a huge and convincing re-creation of tropical forest habitat.
9. Dinner and a show for a song at Temple Street Night Market
Temple St, named after the temple dedicated to Tin Hau at its centre, hosts the liveliest night market in Hong Kong. It used to be known as 'Men's St' because it only sold men's clothing and to distinguish it from the 'Ladies' Market' on Tung Choi St to the northeast. Though there are still a lot of items on sale for men, vendors don't discriminate – anyone's money will do. But don't just come here to shop; this is also a place for eating and entertainment. Aside from the plethora of street food on offer, you'll also find a surfeit of fortune-tellers and herbalists and some free, open-air Cantonese opera performances here.
Hong Kong Wetland Park contains a huge visitor centre called Wetland Interactive World, with three major galleries and a surfeit of hands-on and educational exhibits, a theatre and a resource centre. Outside there are four brief boardwalk walking trails through marshland and mangrove swamps, complete with viewing platforms and bird hides, and a discovery centre. The park is also now the home of Pui Pui, the irascible pet crocodile that escaped and managed to find his way to the Shan Pui River in Yuen Long, eluding would-be captors from Hong Kong, China and Australia for seven not-so-snappy months in 2004.
The amazing views of Hong Kong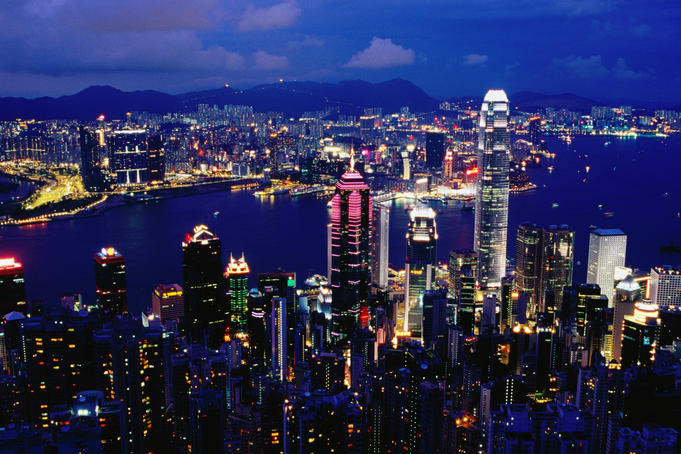 Nothing quite matches Hong Kong from above but, then, it's difficult to get things wrong with mountains on one side, water on the other and skyscrapers in the middle to provide the platform. And it's not just for thrill-seekers; fantastic views of the harbour form the backdrop of some excellent restaurants and a fair number of bars and clubs as well.
Remember, too, that it's not just about Hong Kong from the top down. Some of the most dramatic sights in the territory are those of Hong Kong from the ground up. Just stand at the water's edge on the promenade in Tsim Sha Tsui and you'll understand. Views on the move are another good way to soak up Hong Kong's uniquely energetic vistas, whether it means boarding a Star Ferry or watching an urban panorama scroll by aboard a clanking, ancient tram.
The rush of energy you get from taking in this futuristic megacity's outline and the amazing natural topography on which it's built is immense. You need distance and perspective to do this properly and getting as high as you can (we mean physically) is one good way to enjoy this simple thrill. Head for the Bank of China Tower designed by China-born American architect IM Pei in 1990. Take the express lift to the 43rd floor from where you'll be rewarded with a panoramic view over Hong Kong.
From here you are about the same height as the Hongkong & Shanghai Bank to the northwest. It's a pity that you aren't allowed to go any higher, as it's exciting swaying with the wind at the top. Even higher (though arguably not as dramatic) is the view from the windows of the Hong Kong Monetary Authority Information Centre on the 55th floor of the Two International Finance Centre.
The highest point of The Peak has been the place to live ever since the British came here in the 19th century. The taipans built summer houses here to escape the heat and humidity (it's usually about 5°C cooler than down below). The Peak remains the most fashionable – and expensive – area to live in Hong Kong and is the territory's foremost tourist destination. Not only is the view from the summit one of the most spectacular cityscapes in the world, it's a good way to get Hong Kong into perspective. And the only way up, as far as we are concerned, is via the Peak Tram.
Rising above the Peak Tram terminus is the seven-storey Peak Tower, an anvil-shaped building containing shops, restaurants, tourist tat and a viewing terrace. Opposite is the Peak Galleria, a three-storey mall of shops and restaurants. Like the tower, it's designed to withstand winds of up to 270km/h, theoretically more than the maximum velocity of a No 10 typhoon.
The view is equally enthralling from the bottom up. For the ultimate show-stopping view, stand at the harbour edge in Tsim Sha Tsui and take in Hong Kong Island's skyscrapers' gradient-defying march up steep jungle slopes.
Alternatively, and for a mere $2, you can board the upper deck of the Star Ferry and take in this breathtaking city while it's bathed in a neon glow.  The ferry is part of a small fleet of diesel-electric boats first launched in 1888. With names likeMorning Star, Celestial Star and Twinkling Star, the ferries are most romantic at night, festively strung with lights , as the city buildings beam onto the rippling water.
If possible, try to take the trip on a clear night from Kowloon side to Central; it's not half as dramatic in the other direction. The trip takes about nine minutes (as long as it used to take to read the now defunct Hong Kong Star, a lowbrow tabloid newspaper, it was said), and departures are very frequent. Indeed, morning and evening, the Star Ferry is a genuinely useful and commonly used way for local people to hop from island to mainland and back again.